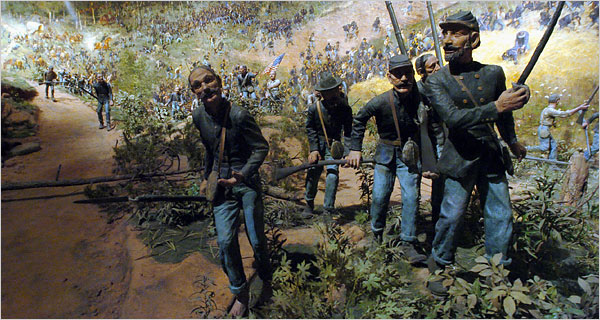 #46
THE CYCLORAMA
July 21, 2014
—
Featuring:
Gordon Jones, Derrick Williams, Shae Avery
SHARE
OVERVIEW
The Cyclorama is not a place to race bicycles, it's home to an incredibly historic painting portraying the Battle of Atlanta, a turning point in US history.

150 years ago in 1864, Atlanta was a city at war. Just as it is today, the city was a transport hub although then it was the train rather than the plane providing the city's lifeblood. Tons of Confederate war material, food, and goods were housed in Atlanta warehouses and the city's sprawling rail network carried troops and material to the front lines. The Confederacy hung on, despite the devastating losses at Gettysburg and Vicksburg, largely thanks to the goods pouring out of Atlanta. The rail had to be broken, the city had to be taken.
After defeating the Confederate army at its most vital distribution point, Union general William T. Sherman began his famous "March to Sea" toward Savannah. The Battle of Atlanta cost the lives of over 12,000 American soldiers and is represented today in the 15,000 sq. ft. oil painting housed at the Atlanta Cyclorama and Civil War Museum. The aptly named Battle of Atlanta along with an extensive diorama depicts the battle in both minute and grand detail. On July 22, we celebrate the sesquicentennial anniversary of the battle that changed the course of American history.
To help set the stage is Senior Military Historian at the Atlanta History Center, Gordon Jones, to tell us about this turning point in Civil War, Atlanta and US history. Following Jones are two other guests who keep the history alive.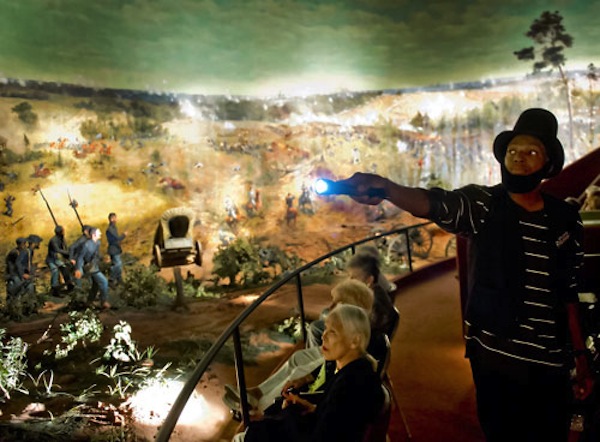 Derrick L. Williams Jr. A student of both the political sciences and history, Derrick worked for the Albany Civil Rights museum before joining the Atlanta Cyclorama and Civil War Museum as tour guide, actor, and superstar spokesperson. He joins us to talk about the Cyclorama's role in educating the world about equality and freedom via the Battle of Atlanta as told through his character, "Young Abe" Lincoln.
For 28-years Shae Avery has been overseeing an expert crew to clean, conserve and restore the Atlanta Cyclorama diorama. He speaks with us about his position at the intersection of preservation and creation, the delicacy of working with a historical work of art.
THIS SHOW AIRS ON MONDAY JULY 28TH AT 6:30PM EST ON AM 1690 "THE VOICE OF THE ARTS".
or...LISTEN NOW by pressin' PLAY up top of this post.