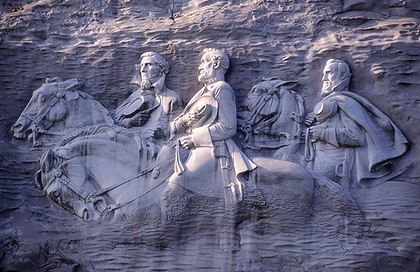 #034
STONE MOUNTAIN
July 29, 2013
—
Featuring:
John Allensworth, Paul Hudson, Jay Davis.
SHARE
OVERVIEW
This month we sit down with three unique guests to talk about the gravity and gravitas of the world's largest piece of exposed granite, Stone Mountain. A memorial to the Confederacy, this several trillion-ton landmark stands as a complex example of both physical and cultural geography, of civil and natural significance. A magnificent place to hike, to explore, and enjoy the outdoors, the park provides. However, one of the most interesting attractions is at times also its most polarizing. The historical carving featuring a trio of Southern generals and their horses: Jefferson Davis on Blackjack, Robert E. Lee on Traveler and Thomas "Stonewall" Jackson on Little Sorrel, spans three acres and is larger than the Mount Rushmore relief, its creation and implication making for interesting discourse and debate.
Paul Hudson, Ph.D has been hailed by The New York Times as a world authority on time capsules. Hudson is also co-author, along with Lora Mirza, of Atlanta's Stone Mountain: A Multicultural History, the book winning the 2012 Lilla M. Hawes Award from the Georgia Historical Society. Hudson's commentary on Stone Mountain as a time capsule adds a colorful look back into the future.
Cultural Geographer and long-time teacher John Allensworth, Ph.D. is a resident of Stone Mountain with a penchant for its history. John has been jogging, climbing and reading about the mountain since moving to Atlanta in 1998, and joins Gene in the studio to discuss his explorations and adventures through the lens of both a doting grandfather and a world-class geologist.
When you think stone, you typically don't think bird watching. But, as a Master Birder and Board Member of Atlanta Audubon Society, Jay Davis has a different view. In fact, Stone Mountain Park is a birdwatcher's haven. Jay leads walks at Stone Mountain and is also one of the founders of birdJam, a bird song app used for bird identification. Jay and Gene chirp away about the many feathered friends whom inhabit the park. Pretty cool stuff.
Hike often, and enjoy the show!