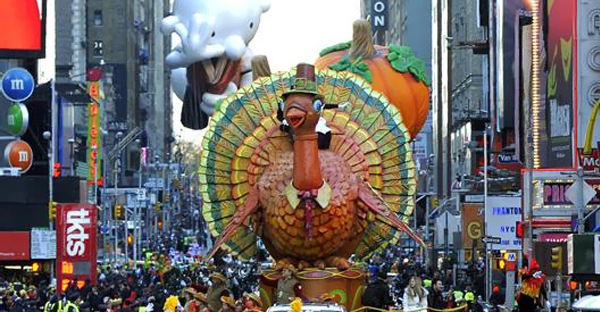 #038
THE PARADE
November 25, 2013
—
Featuring:
Bill Schemerhorn, Arthur Hardy, Chantelle Rytter
SHARE
OVERVIEW
When we think about Thanksgiving we reflect and give thanks for friends, family, football, turkey, and on November 28th, 50 million of us nationwide will tune in our appreciation for the always-spectacular Macy's Thanksgiving Day Parade. For the past 86 years the parade has thrilled and entertained us, becoming as traditional as sweet potatoes, cranberry, and pecan pie.
Of course, there are many different types of processions that celebrate, and these parades vary widely in their look, feel and flair. Beyond mind-blowing balloons, fantastical floats and marching bands, they all have a constant, a traditional reminder that we're a community. This month we meet up with three guests who LOVE a parade, lending their colorful, personal experiences to marshal a parade of traditions, a tradition of parades.
Publisher and parade historian Arthur Hardy is the voice of Mardi Gras. Since 1977, his omnipresent Mardi Gras Guide has sold more than 2 millions copies, providing color commentary and programming to the Greatest Free Show on Earth. Hardy joins Gene to talk about the royalty, revelry, and reminiscences contributing to entertainment, community engagement, and the identity of New Orleans. The Mardi Gras tradition offers many different faces – rockin', rollin', ridin', and reigning supreme as the largest parade of parades the world has ever known.
For 31 years Bill Schemerhorn has intimately contributed to one of our country's greatest holiday traditions, The Macy's Thanksgiving Day Parade. We're lucky to have caught up with Bill just weeks before his parade proceeds through Manhattan with 3.5 million spectators in attendance. As Creative Director, he oversees everything from dirigibles to clown coordination, from dancers to performers to talent selection and musical accompaniments, all in what he lovingly describes as "a 3-hour long variety show" bringing joy to millions. We concur.
The Atlanta Beltline is the genius of Urban Designer and architect Ryan Gravel, connecting 45 different Atlanta neighborhoods and providing a path of cultural development. Founder and Captain of the Krewe of Grateful Gluttons, Chantelle Rytter, raises a light to the BeltLine with her annual Lantern Parade, a new tradition that celebrates the connection of community. As Atlanta's first-ever krewe, the Gluttons keep up ATL's mantra as "The City Too Busy to Hate", parading 2.7 miles in a procession that differentiates itself by encouraging all to join the parade. Now that's a party.
As we wind down, please have a wonderful Thanksgiving holiday, and enjoy the show.
Special thanks to DeAnna Kansas, who's love of family and tradition inspired the creative content for this month's episode.
This show is dedicated to the memory of Frank Lucas, a world-class father, a man of honor, and a veteran of tradition. He was greatly loved, he will be greatly missed.