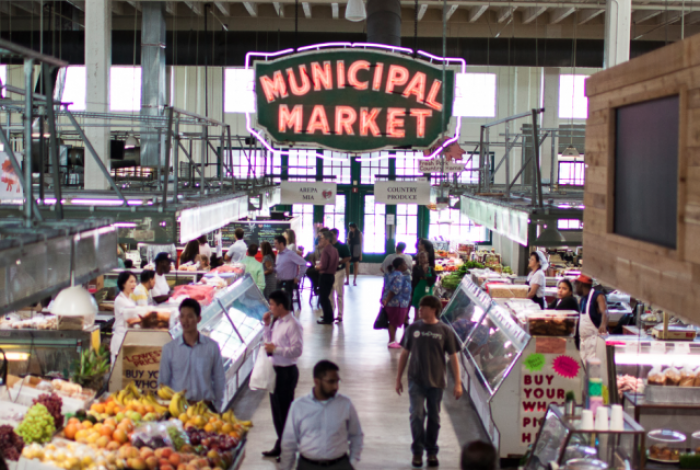 #035
THE CURB MARKET
August 26, 2013
—
Featuring:
Pam Joiner, Richard Laub, Tim Borchers, Steven Smith, Keith Schroeder
SHARE
OVERVIEW
In 1917, an enormous fire ravaged 75 blocks of Atlanta, leaving 1 mile of destruction in its wake. To replant the seeds of commerce, the city of Atlanta created an open-air market (1918 – 1923) in what is now the Sweet Auburn Historic District. The gathering became so popular, a permanent structure was demanded and the Women's Club of Atlanta raised money to help make it happen. The Municipal Market of Atlanta, as it's officially titled, opened its doors in 1924, selling produce, meats, and products to consumers of the day. The market was in many ways egalitarian, meant for people of all classes and color, but not everyone was allowed inside. The African American shoppers had to buy their goods from carts on the curb, prompting a nickname that still stands nearly 90 years later; today we affectionately call it "The Curb Market".
Public markets have the power to positively influence the image of a city. Ask people what they like most about The Curb Market and you get one answer repeated: diversity. Much like the city it represents, The Curb Market not just offers diversity of people, but diversity of cultures, experiences, products, and ideas. From little old ladies who have shopped there since MLK, Jr. preached around the corner, to GSU students exploring downtown for the first time, from doctors and nurses at Grady, to tourists visiting the birthplace of the Civil Rights Movement, The Curb Market attracts us all. And, on the food scene, diversity tempts our taste buds with each new merchant. Be it a chef-inspired ice cream shop, Venezuelan street food, or fresh juice to go, there's always something tasty to catch eye and appetite.
Managing the market and its diversity is Pamela Joiner. Part "house mother", part curator, Pam joins Gene to provide an inside look into the bustling day-to-day activity that makes The Curb Market such a cherished cultural asset, an enjoyed community treasure.
Markets are so popular right now we sometimes forget they've been around since antiquity. In a time of "market mania" (Ponce City Market, Krog Street Market, Buford Highway Farmers Market to name a few), The Curb Market stands as the city's oldest public market, and one of extreme importance in regards to historic preservation and cultural significance. Richard Laub is Director, Master of Heritage Preservation Program, at Georgia State University; GSU and their 32,500 students surround the market. Richard has worked in the field of historic preservation for over 30 years, receiving his initial training as a restoration craftsman with the National Trust for Historic Preservation. Richard adds his expertise to discuss the market's preservation success story in an historical context, adding a professor's touch to the importance of markets in communities worldwide.
As the Atlanta Streetcar's Executive Director, Tim Borchers is a true community builder. Tim hops on board to talk about the impact and operations of our rising transit star; where it will go and where it's taking us. From what we can tell, the transformation will be transformational for the 2.6 mile loop leading from The King Center to Centennial Olympic Park. An estimated 2 million visitors enjoy both tourist destinations each year. But, where do they eat?! Of course, there's an official Streetcar stop right outside the Edgewood Avenue front door of the Sweet Auburn Curb Market. Why? Tim says, "It's where people want to go."
Steven Smith is Co-founder and COO of Sunday Gravy, a NYC favorite that arrived in Atlanta just 4 months ago, quickly making many friends at The Curb Market. Smith's passion for gutsy fare and his New York-Italian heritage inspired the revival of a century-old tradition of sharing a slow braise of beef, pork, meatballs, and sausage in a rustic tomato ragu -- Sunday Gravy. Smith has been featured in The New York Post, The Opie and Anthony Show, and Fox and Friends, and joins us to "tawk" about being a new merchant in an historic market.
Steven's business partner, and "roommate" at The Curb Market, is Keith Schroeder, a celebrated entrepreneur, chef, author, and food educator. He is the co-founder and CEO of the award-winning, chef-inspired High Road Craft Ice Cream, and is actively building a family of food brands, including his partnership with Sunday Gravy and Winnow Food Markets. Schroeder is currently completing his first book, and brings a lively conversation (along with ridiculously good Buttermilk ice cream) to the Sidewalk Radio studio.
This show is super tasty, full of history, and promises to be a colorful exploration of Atlanta's best-kept secret/soon to be most popular stop on the Streetcar, The Sweet Auburn Curb Market.
Special thanks to Nicholas Cooper-Kedrick & Hannah Huffines Amick for their collaboration with this post and in this production. It's good. Enjoy!