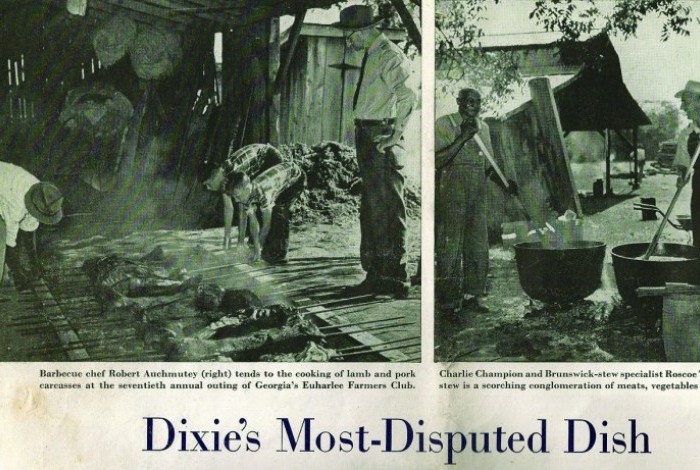 #033
BBQ: PITMASTERS
June 24, 2013
—
Featuring:
Anne Quatrano, Bob Townsend, Jim Auchmutey
SHARE
OVERVIEW
Barbecue fans, this show's for you. This month we take a spicy, sweet, saucy, smokin' good look at the history, art, science, position and passion for barbecue in our Southern society and beyond.
Joining Gene in the studio this month are some of the country's most pork-influenced tastemakers. They provide us with a flavor for this enduring tradition, and a background that's both educational and entertaining.
We're delighted and charmed to have James Beard Award-Winner Anne Quatrano join in our BBQ discussion this month. Author. Innovator. Visionary. Entrepreneur. Plus, Quatrano is widely held to be one of the country's greatest chefs. Together with her husband, award-winning chef Clifford Harrison, she operates four of Atlanta's most celebrated restaurants - Bacchanalia, Quinones at Bacchanalia, Floataway Café and Abattoir as well as a cook's market, Star Provisions. These renowned concepts are located in and around Westside Urban Market and White Provisions, the epicenter of the city's original meatpacking district. Anne talks about where our food comes from, the importance of purveying, the perfect pig, and the history of Atlanta's Westside.
If you like beer and barbecue, especially together, then you'll love Bob Townsend. Bob has been writing about beer and food for the Atlanta Journal-Constitution for well over a decade. His "Beer Town" column appears in the paper's Thursday Food section and his weekly "First Look" restaurant feature runs in the Wednesday Living section. Bob delves into the culture of pairing beer with BBQ, and we even crack open a cold one with him for a little on-air taste test. Good stuff.
One of our favorite return guests is Sidewalk Radio friend, Jim Auchmutey. A journalist and author in Atlanta, Auchmutey was twice named Cox Newspapers' Writer of the Year. His food stories have won awards from the James Beard Foundation and the Association of Food Journalists and he has co-authored two cookbooks (one of which was about barbecue sauces and rubs). He is currently working on two books, one being an illustrated history of barbecue, in conjunction with a traveling exhibition at the Atlanta History Center. He hails from a long line of Georgia pit-masters and Brunswick stew-makers (Jim's grandfather can be seen in this story's main photo as featured in Saturday Evening Post magazine July 1954), making him a perfect addition to this all-star cast.
SPECIAL THANKS TO HANNAH HUFFINES FOR HER HARD WORK IN MAKING THIS ONE OF OUR MOST TASTY EPISODES YET.