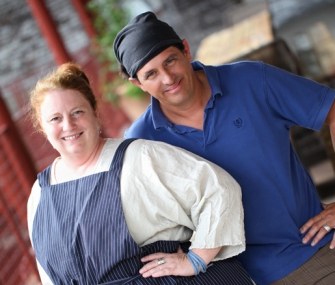 EXTRA
ANNE QUATRANO
June 24, 2013
—
Featuring:
Anne Quatrano
SHARE
OVERVIEW
​From Farm. To Table. To Farm. That's the life of Anne Quatrano, one of our country's most touted and beloved chefs and restauranteurs, as she brings fresh goods from the farm to her award winning restaurants only to turn the truck around and head home (back to Summerland Farm where she and her husband, Clifford Harrison, live) in time to get a well-deserved night's rest.
We were fortunate enough to have Anne join Gene in the studio for our "BBQ: Pitmasters" episode, and enjoyed the conversation so much we decided to offer the full course, airing this interview in its entirety.
Our chat runs the gamut from the early days of Bacchanalia to the advent of Abattoir, from the choice of investing in Atlanta's Westside (the city's original meatpacking district) to her new book, Summerland; All along the way Anne delivers quite a treat in culinary discourse.
Thanks for listening. Please enjoy.