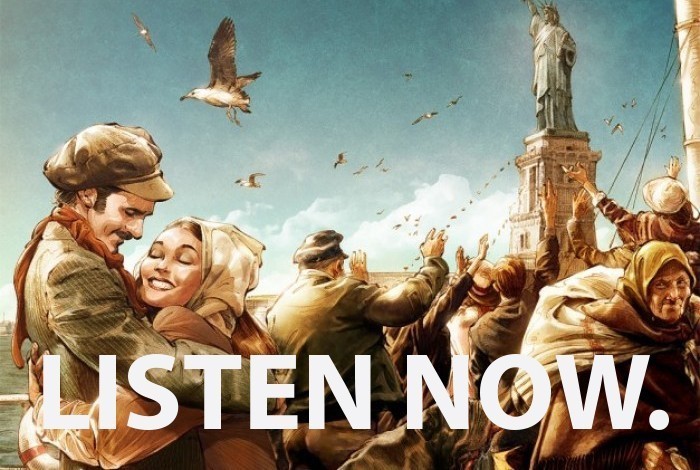 #41
ELLIS ISLAND
February 24, 2014
—
Featuring:
Vincent Cannato, Lee Ann Gamble
SHARE
OVERVIEW
Standing proudly in Upper New York Bay, the Statue of Liberty is an American icon and a symbol of freedom known the world over. While grand and symbolic, the statue is just but one part of a much bigger picture that makes up the National Monument and our National psyche. What often gets forgotten is the foundation that Liberty aligns herself with, Ellis Island. Despite sub par conditions, its history, legacy and lore represent more than a processing station for new arrivals. It is a beacon of hope, of opportunity, and of promise in a land of new beginnings. To understand where we are today we take a look back at the past and pay tribute to the history, architecture, ancestry, and practices of a little place with big impact.
No names were changed at Ellis Island - that is a myth. In fact no legal documents were used at all. It was a place to inspect, scrutinize, to push forward, and in some cases to send back. Hardly the dream you'd hope for when you first caught glimpse of Bartholdi's beautiful green goddess on neighboring Liberty Island. However, from the 1890's through the mid 1950's, this rocky, immigration outpost received 75% of all people arriving in America. Immigration expert, professor, and author of American Passage: The History of Ellis Island, Vincent Cannato, joins us to deliver some fascinating historical highlights about coming to America.
An architect who understands the significance of the back-story is of the utmost importance to any project. Lee Ann Gamble is co-founder and partner of Gamble + Gamble Architects with husband Michael. The firm's reputation for intelligence in design and approach are renowned. But her architectural acumen alone is not what brings her to our studio. A penchant for tedious research, a love of storytelling, and an inquisitive father lead Lee Ann to open an account at Ancestry.com, and has grown into a near daily journey into understanding not only where her family came from but what we're all made of. In 2012, she took a trip to Ellis Island and, today, true to her architectural talent, she audibly paints a portrait of immigration's stock in trade while sharing a personal and profound story of pride.
Through our conversations, we rediscover Ellis Island and in doing so celebrate its bounty of hope, of opportunity, of promise and of new beginnings. And, of course, we do all this Sidewalk Radio style. Please enjoy.
THIS SHOW AIRS ON MONDAY FEBRUARY 24TH AT 6:30PM ON AM1690 "The Voice of the Arts". In Atlanta? Listen live on your radio, or tune in from anywhere in the world to catch us online.
Just can't wait? Hit the play button at the top for Ellis Island on demand!
Art credit: Header image by Tamas Gaspar