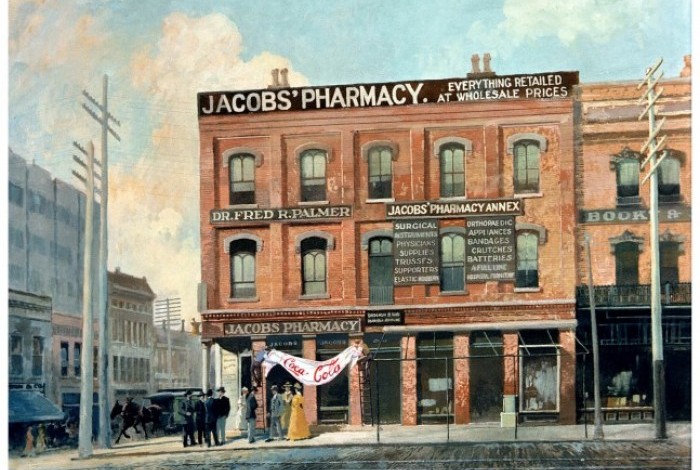 #009
ATLANTA DRINKS
June 10, 2011
—
Featuring:
Greg Best, Tony Riffel, Jesse Altman, Angelo Fuster, Ted Ryan
SHARE
OVERVIEW
Social drinking, instead of drinking to simply survive, has been around for about 8000 years. Atlanta's place in the beverage business, and in America's history, is also distinguished, and growing. "Atlanta Drinks" is about the literal drinks that have made our city popular, like Coca-Cola as the prime example, but the show also pours it on with history, people, places and insights about the cocktail culture, coffee, and the communities surrounding these concoctions.
Greg Best, co-founder/owner/celeb bartender at Holeman-Finch Public House, did not start out to be a bartender. In fact, he started with a career in radio before moving to Las Vegas to work at Delmonico and develop a taste and talent for the classic cocktail. Making a comeback to the airwaves in style, Greg joins Gene in the studio this month to talk about his history, the H&F story, the resurgence of the classic cocktail culture, and the huge part Coke plays in it all.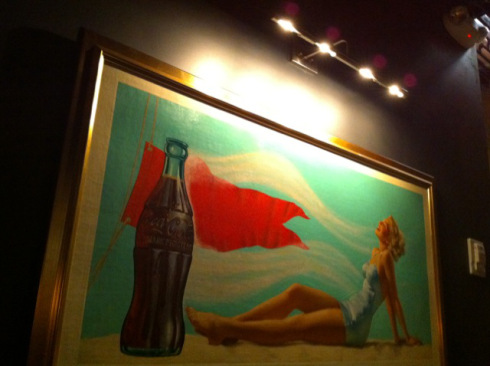 Octane Coffee's cult-like following not only helped fuel the Westside's popularity, but also keeps regulars buzzing. For stimulating "coffee talk", we turn to Tony Riffel, co-founder and owner of Octane and the new Octane PocketBar. Riffel shares his story about leaving corporate America to pursue a dream and how coffee fits into the fabric of Atlanta's communities.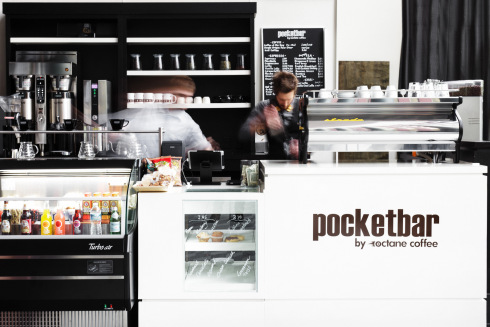 Literally mixing it up in both business and in the bars is Jesse Altman, co-founder of the Whynatte Latte. This tasty, cold, canned mixer (and more) is a coffee & energy drink that is adding a new look to the beverage industry's coffee offerings and kickin' it up the creativity in bars with shots like the "Whippet" and the "Birthday Suit". We can neither confirm nor deny that Gene and Jesse did shots in the studio…okay, fine, we admit it.
Art Wall at H&F. Art on loan from Coke Archives pays homage to our city's brightest brand for its influence on the cocktail culture and the restaurant itself.
Octane Coffee's new "PocketBar" at Bank of America Plaza.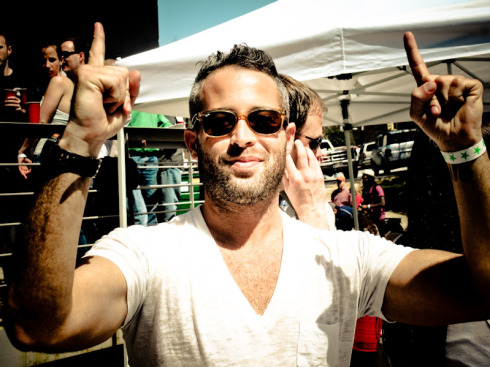 While bartenders and bars are obviously vital ingredients to the beverage community, without the customer they would cease to have importance, and that's where long-time regulars like Angelo Fuster come into play. Fuster, a spokesperson for three Atlanta Mayors (Jackson, Young, Campbell), has been talking politics, drinking drinks and making friends at Manuel's Tavern since the mid 70′s. Angelo is not your typical guy, and Manuel's is certainly not your average bar. Both have a joie de vivre for life, politics, journalism and for being real. Listen in as Angelo shares his stories about this storied and "quintessential" neighborhood bar.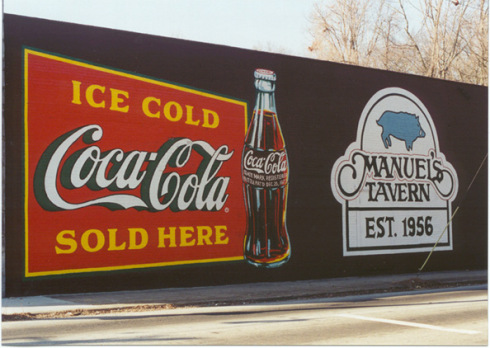 And then there's Coca-Cola. We all LOVE Coke, and we all know what a large part they've played in Atlanta's business, social and philanthropic prowess. Coca-Cola archivist, Ted Ryan, takes us a little deeper into the vault (no, not the one with the secret recipe) to discuss the brand, the art, and the company's affect on pop culture. Additionally, since Coke is such a big part of Atlanta, you'll hear how the refreshing beverage winds it's way through all of our other guest's interviews and makes for the perfect mixer on all accounts.
Enjoy!