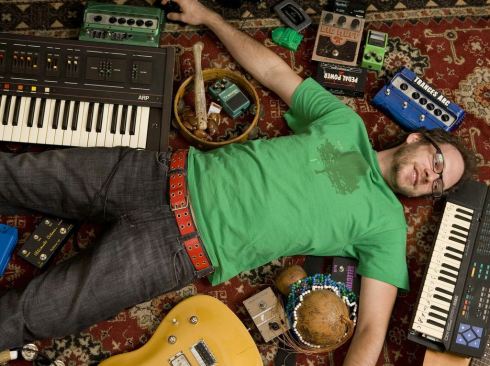 #030
ON THE ROAD: ATHENS
March 23, 2013
—
Featuring:
Ben Allen, Wil Greene, Mark Callahan, Coach Vince Dooley
SHARE
OVERVIEW
In Athens, Georgia, most roads lead back to education, to football, and to music. In turn, these cultural catalysts inspired development in visual arts, historic preservation and most certainly food (see Sidewalk Radio friend, Hugh Acheson). This month, we take the show "on the road" and visit this cultural nexus to explore why this small town is so prominent on a national stage. Interestingly and coincidentally to our endeavor, we find that "touring" has had a lot to do with it.
At the time, groups like REM and Pylon before them did not have a large local fan base so they toured voraciously. In doing so, they brought not only their music to towns like Boston, LA, Chicago and New York, but they also delivered the creativity and culture of a small southern town. Great music and a cacophony of concerts made Athens a major music town. Athens born, Grammy Award-winning producer, Ben Allen, joins Gene to talk about his hometown, sharing personal reflections and professional insights into why he and folks around the world love Athens' music, culture and so much more.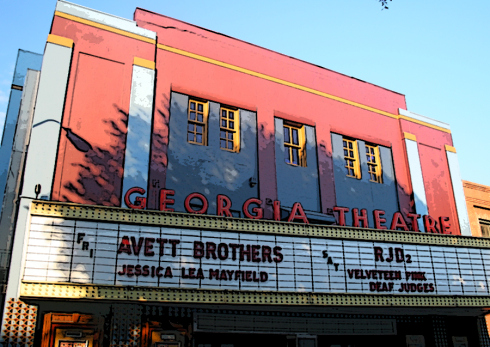 The Georgia Theatre is not just a beacon for music, but also for Georgia's preservation movement.
Co-owner of the Georgia Theatre, Wil Greene, played in Athens' bands, wrote songs for others, and even earned an MS in Geography, but none of that experience nor education prepared him for the day the famed music venue caught fire and burned. The Georgia Theatre had been for years a rite of passage for bands coming in and out of Athens, but on June 19, 2009, it nearly became a memory. Greene, with help from organizations like the Georgia Trust and folks from around the country, rebounded and now the Theatre is better than ever. Wil shares his road-to-recovery story with some entertaining interludes along the way.
Poetry reading by ICE. Poster design by Justine Stevens.
The impact of the University of Georgia on Athens history is beyond considerable. In 1785, UGA became the first state-supported university. In 1804, two years before Athens officially became a town, the first graduating class celebrated…and they haven't stopped since. Don't believe us? Head Downtown on Wednesday, Thursday, Friday or Saturday night! While it is true that Athens is certainly a party and football town, it's also making major waves and advancements in creative exploration. It's no happy accident that we stopped by ICE (Ideas for Creative Exploration) to chat with Artistic Director Mark Callahan. We talk about their process, projects and the promise of creative collaboration in higher education.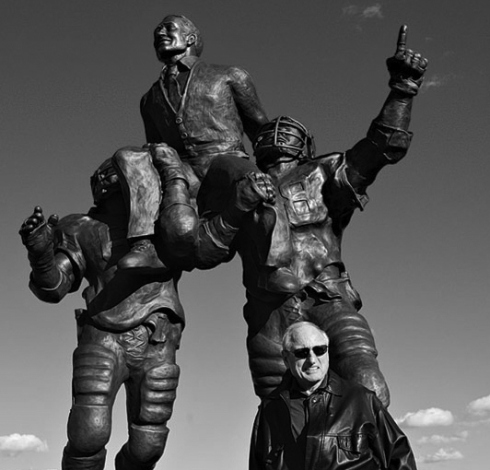 Famed UGA football coach, Vince Dooley, in front of statue celebrating 1980′s National Championship. Photo by Andrew Davis Tucker.
Game day at "Georgia" is more than a tradition, it's a way of life. For 25 years, Coach Vince Dooley led the University of Georgia Bulldogs "Between the Hedges" and on the road to a mind numbing 201 victories and 20 bowl games, and in 1980, to a National Championship. Under Dooley's leadership, UGA was first broadcast on national TV, "touring" en masse and winning fans everywhere except for in the SEC! And, while we certainly have a high degree of respect for the impact of sport on Athens, it's Coach Dooley's love for and acumen in history and gardening that captured our attention in the Sidewalk Radio studio. Take a listen to the Vince Dooley interview that is sure to make you an even bigger fan of the Athens' icon, sports legend, Civil War authority and master gardener.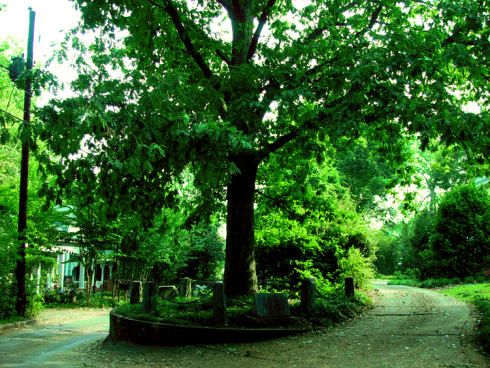 "The Tree That Owns Itself" is a gift and a tribute to cultural will trumping civil law. Just listen to the show…you'll hear!
For ON THE ROAD: ATHENS, we had a blast, made some great friends, drank Red Blazers (rye whisky, bitters, Cheerwine from the bottle) at the Manhattan – which we encourage, caught some great shows including Dave Marr featuring Unscripted host Alan Flurry and then caught Kai Riedl followed by Reptar at the 40 Watt, saw some really cool works at Georgia Museum of Art, and had amazing conversation about history, culture and all things creative. And, for you dear listener, this is the road trip you can take right from your radio or i-thing. Please join us & enjoy!